Alicia Keys Gives Birth To Baby Boy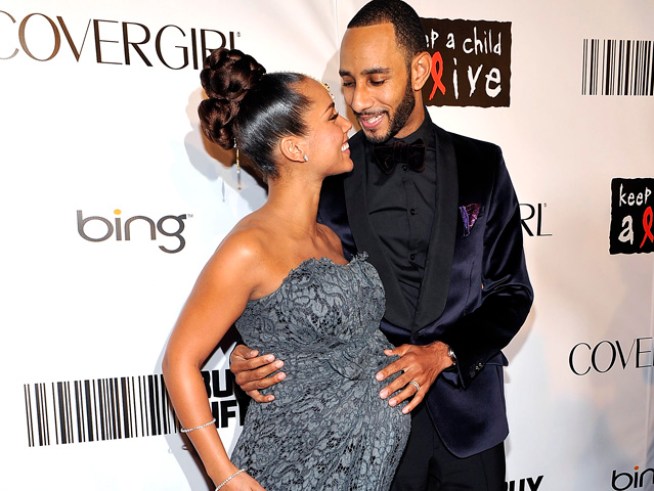 WireImage
Excited Mama and Papa to be Alicia Keys and Swizz Beatz show off Key's ever growing baby bump while they walk the red carpet at the Keep A Child Alive's 7th annual Black Ball.
It's a boy for Alicia Keys and her husband, music producer/rapper Swizz Beatz.
A representative for Keys said she gave birth Thursday night in New York. The couple have named their son Egypt Dean. It's the first child for the 29-year-old superstar and the fourth child for Beatz, whose real name is Kaseem Dean. The couple was married July 31.
VIEW THE PHOTOS: Hottest Hollywood Dads!
Swizz Beatz, 31, took time to tweet on Friday: "I'm so thankful for everything I been blessed with in my life wowwwwww!
Singer Mary J. Blige also tweeted her congratulations on the birth.
VIEW THE PHOTOS: Hollywood's Smokin' Hot Couples
Copyright 2010 by Associated Press. All rights reserved.This material may not be published, broadcast, rewritten or redistributed.
Related Content from AccessHollywood.com:
VIEW THE PHOTOS: Hollywood's Hottest Moms & Their Loveable Little Ones
VIEW THE PHOTOS: Daring! Dramatic! Fabulous! Hot Shots Of Hollywood's Divas
PLAY IT NOW: 2009 American Music Awards: Alicia Keys' 'State Of Mind'
PLAY IT NOW: Whitney Houston Makes A Surprise Appearance At Alicia Keys' Black Ball Gala
More from Access: [ Alicia Keys Births TV One ]