Young "Lion King" Thespian Gets Blood Transplant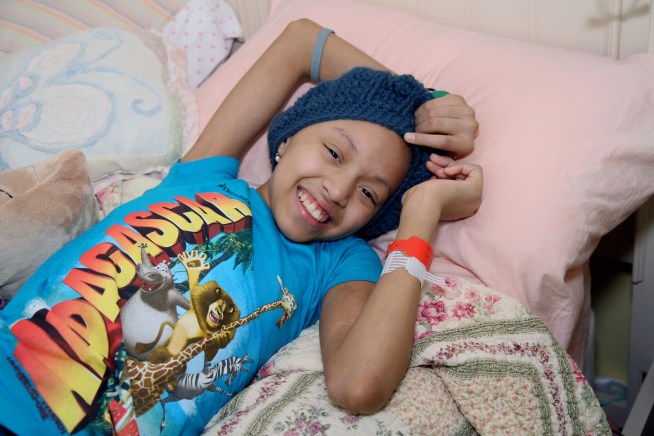 AP
FILE - In this July 15, 2010 file photo, Shannon Tavarez relaxes in her room in the Queens Borough of New York. The 11-year-old actress who suffers from leukemia is recovering after receiving an umbilical-cord blood transplant in a New York hospital, Tuesday, Aug. 17, 2010. The treatment was performed in place of a bone marrow transplant because a suitable donor couldn't be found. Shannon had played a young Nala in "The Lion King" on Broadway.
An 11-year-old girl with leukemia who played young Nala in "The Lion King" on Broadway has undergone a potentially lifesaving procedure in New York.
Shannon Tavarez received an umbilical-cord blood transplant Tuesday at Cohen Children's Medical Center in New Hyde Park, on Long Island.
VIEW THE PHOTOS: Broadway's Biggest Night! The 2010 Tony Awards
The procedure was performed as an alternative to a bone marrow transplant. Her doctor said they were unable to find a perfect bone marrow match for Shannon.
A family friend says Shannon will remain in the hospital under observation while physicians ensure that her body does not reject the blood transplant.
VIEW THE PHOTOS: Generations Collide At LA 'Karate Kid' Premiere!
The actress was forced to quit the show in April. Cast members held a bone marrow donor registration drive for her last month.
Copyright 2010 by Associated Press. All rights reserved.This material may not be published, broadcast, rewritten or redistributed.
Related Content from AccessHollywood.com:
VIEW THE PHOTOS: Slime Time! Inside Nickelodeon's 2010 Kids' Choice Awards
VIEW THE PHOTOS: Access To A Dream: 'Meet The Robinsons' Day
PLAY IT NOW: Hugh Jackman & Daniel Craig's 'A Steady Rain,' Broadway Opening Night
PLAY IT NOW: 'Rent' Takes Over The Hollywood Bowl, Part One
More from Access: [ Broadway Hospitalizations ]