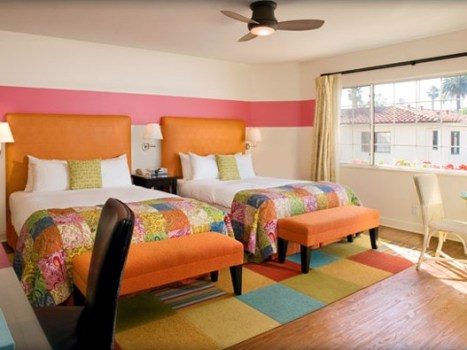 Hotel Oceana
Breezy days and bike cruisers rule the Hotel Oceana.
THIS IS WHAT GOT US: Well, the words "Holiday" and "Happiness" got us on the Hotel Oceana site (two loverly words, we can all agree). Also, "Hotel" and "Oceana" are two sweet words, too; they imply a Pacific-close stayover, which is exactly what this Santa Barbara inn delivers. But the two words that sealed this particular deal were the words "beach" and "cruiser."
OH, AND "COMPLIMENTARY": "Complimentary" is never not a nice word. So, the upshot with the Holiday Happiness package at the Hotel Oceana is this: Book the deal, get good stuff like a gratis app and a gratis sweet, and get privileges in the borrowing-of-the-hotel's-beach-cruisers department. Details here. The only question is this: Could anyone stay at a place with "Oceana" in the name and turn down a complimentary beach cruiser bike ride? Absolutely never not no way.