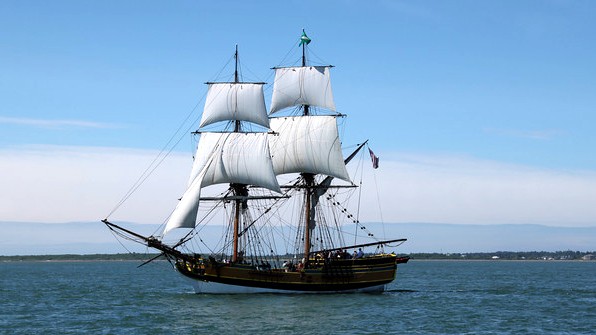 Ron Arel, Coastal Images
The Lady Washington has dropped anchor in Newport Beach; she'll be there through Wednesday, Jan. 11.
FULL-SCALE REPRODUCTION: It's not often that those words come together in the modern age, given the fact that mass production means making things smaller, cheaper, and faster. And when you're building a point-by-point copy of an 18th-century sailing vessel? Well, that takes time and money and dedication and research. And it takes the kind of hearty crew that brought the Washington-based Lady Washington to life again back in the late '80s. It's a pretty famous ship, and certainly a staple of various tall ships festivals, and it just happened to have cameoed in "Pirates of the Caribbean: Curse of the Black Pearl" (Lady Washington starred as the HMS Interceptor). Mighty big deal, that. So, is your imagination properly stoked? Good. Then make for Newport Beach, where the ship has dropped anchor. It's in port through Wednesday, Jan. 11.
WASHINGTON WHIMSY: Sure, merely admiring the majestic vessel is treat enough, but there will be a pair of three-hour Battle Sails with the Hawaiian Chieftain over the Saturday, Jan. 7 and Sunday, Jan. 8 weekend. "(C)lose-quarters naval-style maneuvers" are promised. How often do you have crack to witness those on a daily basis? From the deck of a movie-pretty ship? And wait for it: Guests are invited to "verbally taunt adversaries." Say no more. Sold. Tickets and information and background of both the Chieftain and the Lady Washington can be found here. Ocean ho! (Wait, that's a phrase, right? Kind of? Like "land, ho" but water-facing? Sigh. Off to the ship we go, to be schooled.)