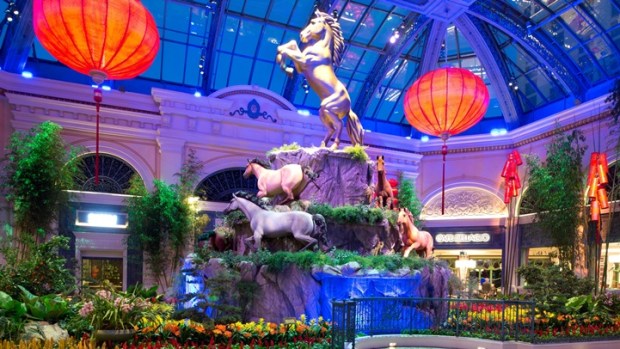 Bellagio
The horse is the centerpiece at the Bellagio Conservatory & Botanical Gardens 2014 Chinese New Year display.
HAPPY NEW YEAR: While there are many places and ways and traditions and paths to celebrating Chinese New Year, many of them are quite, well, celebratory. Firecrackers and parades and lion dances fill out the joyful calendar, which is rather wonderful. Why shouldn't the next period of time be met with a lot of show and glitter and panache? But there are ways to enjoy the peaceful side, the reflective side if you will, of the new year. Midnight temple ceremonies are a wonderful, look-within way to say hello to the dawning of a fresh page on the calendar. And there are natural spots, too, which summon the spirit of the year to come. One of the most famous of those spots doesn't even happen to be under the sun, or outside, and yet it brims with a natural beauty and human artistry. It's Bellagio's Conservatory & Botanical Gardens we speak of, of course, and the annual welcoming-the-new-year garden display is indeed a happy -- and horsey -- one.
YEAR OF THE HORSE: Equines receive the starring role in this year's Bellagio presentation. "Seven life-size horses" are a garden centerpiece, including a rearing stallion. Other garden touches include an 18-foot-tall money tree, a zigzag bridge (meant to thwart negative energy on its journey), and several water elements. Several huge lanterns and some 22,000 flowers will be on display through March 1, but it isn't the floral scene that's the thematic garden's only draw. The Beijing Trio will play in the garden's on-site pavilion from 5 to 6 p.m. every night, arriving through the moon gate. Oh, and visit the Koi pond as well; some 150 fish will call the Bellagio home through the start of March. And as always? The peaceful bucolic scene, just steps from the casino floor, is free to visit.