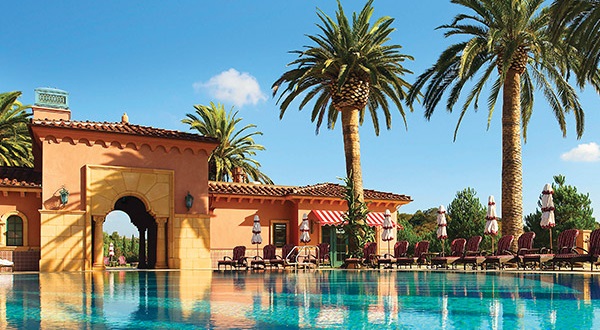 Grand Del Mar
The Grand Del Mar was voted #1 hotel in the U.S. by TripAdvisor Readers in the Travelers' Choice awards.
BACK WHEN YOU WERE A KID... participating in a sport or arts program, do you remember how it felt to be picked for first place? Maybe you got a blue ribbon or a trophy or a certificate (the one that still hangs on the side of your mom's fridge to this day). But what happens when a luxury hotel receives a big, shiny #1 honor? Sure, a certificate could hang on the side of the fridge in the employee breakroom. Or the property could go all out and form a giant "#1" out of flowers in its gardens or perhaps grass on the golf course. Or they could simply announce the lofty honor to both loyal guests and first-timers considering a stay. The Grand Del Mar has opted for this sophisticated last path with its most recent honors, which come from no less than TripAdvisor and Forbes. And while we're maybe a tad sad we'll never seen a #1 mowed into a golf green, we are impressed that the resort was chosen as the #1 hotel in the U.S. by TripAdvisor readers, via the Travelers' Choice Awards.
BUT WAIT... there is more. The plush property was also ranked as the number one luxury hotel in the country and, and, and the eleventh luxury hotel on the planet. Over 700,000 hotels were taken into consideration for the awards, so, yep, you betcha, this is top-hat praise, indeed. These aren't the only accolades that the Grand Del Mar received this week; it retained both is Forbes Five Star ranking and its five-diamond rating from AAA. Yep, definitely worthy of hanging on the fridge. And while the Grand Del Mar celebrates, guests can go on enjoying the golfing and the swimming and the spaing and the rustic beauty of the surrounding Los Peñasquitos Canyon Reserve. Think such a swanky stay doesn't offer packages or deals? Au contraire. Check 'em out, then check out what makes a hotel the numero uno spot in all of Hoteland (or the U.S., to be more specific).