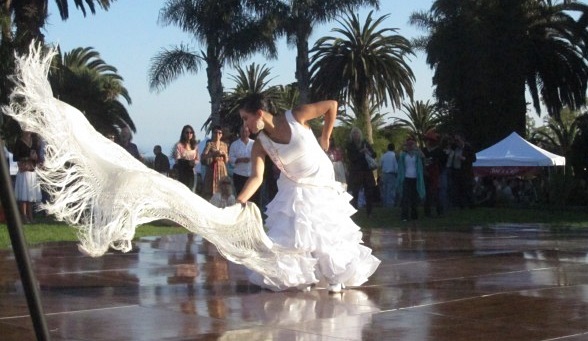 Old Spanish Days
The 89th Old Spanish Days fiesta opens in Santa Barbara on Wednesday, July 31.
A SUMMERTIME TRADITION: One has to ponder -- you ponder, yes, on occasion? Good -- about whether Golden State residents felt particularly fruitful, creatively, back in the late 1920s and early 1930s. We ask because a number of our most beloved -- you think of things as beloved, yes, on occasion? Good -- cultural institutions are either entering or ending their eighth decade this year. Consider that the Ramona Pageant at the Ramona Bowl is marking its 90th, the Pageant of the Masters is just a decade younger, and Santa Barbara's famous Old Spanish Days Fiesta will light its 89th candle. Which gives us pause -- you occasionally take a pause, right? -- and makes us consider this question: What pageants and spectacles and major cultural institutions starting up now will make it into the 2090s? Let us suggest that they look to Santa Barbara for inspiration, and Old Spanish Days, which open on Wednesday, July 31 and trot through Sunday, Aug. 4.
VAQUEROS Y VAQUERAS: The 2013 theme, which is fitting, given the starring roles that vaqueros and horses and California rancho history plays in the the five-day festival. The party opens on the steps of Old Mission Santa Barbara with La Fiesta Pequeña on Wednesday, July 31. Other highlights of the extravaganza include the horse show and rodeo, the various mercados, Las Noches de Ronda (where you'll see some of the dancing that is symbolic of the fiesta), and El Desfile de los Niños, the 83-year-old children's parade, which is full of costumes and vibrancy and waving, happy local residents, big and small. Tickets are required for some events, so take a peek before your drive. And, again, we post about this for fans of the fiesta as well as inspired people looking to start new multi-day parties that might have the legs to last 89 years. When will California's next cultural renaissance be? We could be in it right now.