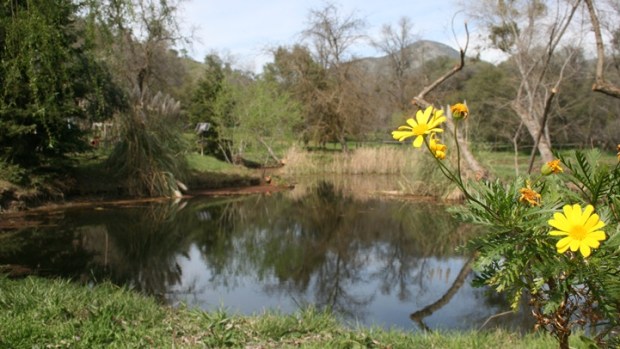 Three Rivers
Take a peek at Anjelica Huston's ranch and more gorgeous spreads on the Three Rivers Garden Tour. It's happening on Saturday, April 20.
SEQUOIA-ADJACENT BEAUTY: When you're the largest living things on the planet, you can rightly pull some attention and focus. And the sequoias naturally do; when you're driving up to the national park, it's all you can do not to talk about the General Sherman and General Grant trees and the wonders that await. But one of the entrances to the park happens to also be one of California's prettiest towns (we'll just go on record with that statement, so feel free to quote us). It's Three Rivers, and, nope, there isn't a sequoia to be found -- those are up the big mountain -- but there are bucolic scenes aplenty. The whole area is wild and rustic, with manicured bits here and there, lending the foothill burg a painterly feel. Many locals keep gardens, including the occasional celebrity who calls the area home. Those gardens are often part of the springtime tour, and, yep, famous residents throw their hats in the ring, too. If you know the area you might recall that William Shatner's ranch played a star role on the Three Rivers Hidden Gardens Tour a few years back, and this year? Anjelica Huston's Flying Heart Ranch will welcome lovers of all things natural and wild.
DATES AND DETAILS: The date for this year's look-about is Saturday, April 20 and tickets are $40. As in years past, the money raised helps out education in Three Rivers. It should also be noted that there will be a few patches of prettiness beyond the Flying Heart Ranch. A lavender plot will be featured, and a look at original adobe homes (and how adobe is made). Music and food round out the day. Us? We'd make it a part of a bigger sequoia drive weekend. In fact, Three Rivers should be a part of every sequoia weekend in our book. Even a stop in town for lunch has a way of gentling one's pace. Just don't tell the General Sherman or General Grant trees they've got a little natural competition down the big hill.