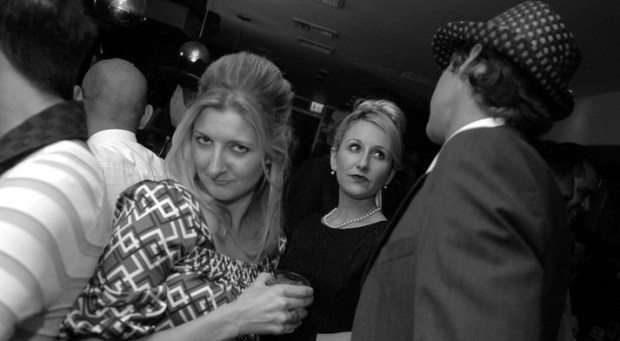 Pearl Hotel
Fans'll gather on Saturday, March 24 to celebrate the start of the fifth season of "Mad Men."
A LONG, LONG TIME: There used to be a day when a television show wrapped up a season, oh, along about Memorial Day, and it was back just about the time the kids headed off to school. No longer, right, in our cable-digital-recorder-internet world, right? Our favorite series can screen a mess of episodes and then, for various reasons, vamoose for the better part of two years. But we stick by them, the excitement builds, and when a much-anticipated hit returns after a long absence -- much like "Mad Men" is doing on Sunday, March 25 -- we party. Sure, we might party at home, during the airing, with little '60s-authentic appetizers. Or we can head to a swanky, period-nice place like San Diego's own Pearl Hotel on the eve of the airing in all of our "Mad Men"-era finery. Yep, we're talking fedoras and little white gloves here, and if you don't have those, best get those before 9 p.m. on Saturday, March 24.
COCKTAILS AND CHITCHAT: The Pearl has gone "Mad Men" before, and the photos tell us three things. One? People dress up. Two? People cocktail up. And three? People chat each other up. If you're a-okay with those three elements, and you do love the series and its 1960s-riffic world, you'll be more than fine. Plus, the Pearl. Was there ever a location more custom built for Don Draper and co.? We picture Don poolside in a pair of classic Ray-Bans and casual, cream-colored slip-on shoes. Three more things, quickly: There's a costume contest, there's no cover, and the tunes'll be vintage. Score, score, and score.