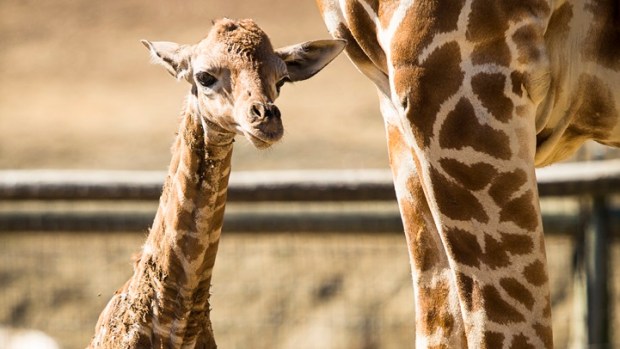 Dave Hall
Ringo, the newest addition to Safari West, was born on Sunday, July 7. Want to see him grow? He's at the Santa Rosa-based animal park.
THINGS COME IN THREES... goes the old chestnut, but when those things are nice we don't mind if only two show up. And that's been the case this summer in the Golden State with stars named Ringo. One Ringo appeared in June in Los Angeles and one Ringo in early July in Santa Rosa, and both are sure to attract plenty of adulation and attention.
WELL... the Los Angeles Ringo is already well-practiced in both those things, but then most Beatles tend to be. The Grammy Museum in downtown LA just debuted its mega exhibit Ringo: Love & Peace. It includes a few of the legend's drum kits -- including the kit he played for "Let It Be," "Abbey Road," and the "White Album" -- and the kit seen on "The Ed Sullivan Show." Artifacts, pictures, and his Sgt. Pepper suit are displayed in the collection. While the star won't be at the exhibit when you go -- well, who knows, he did show for the opening -- you'll truly get your Beatlemania on. It's the largest exhibit ever devoted to a drummer, according to the music institution. See it before March 2014, when it bids farewell.
AND UP IN SANTA ROSA... another Ringo is making headlines. He's a wee giraffe, born Sunday, July 7, though "wee" refers more to his age and not his size. Yep, he's got the knobby, long legs of a just-got-here giraffe and some spunk, too. And, yep, he was indeed named for Ringo Starr, who happens to have a birthday on, you guessed it, July 7. Ringo is the 27th giraffe born at the animal park. (And, now that we think about it, couldn't Ringo Starr write a whimsical ditty about living a giraffe's life? We bet he could.)