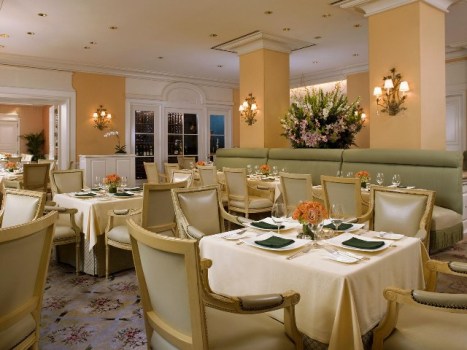 The Peninsula
The Peninsula is offering a special St. Patrick's Day meal -- at both lunch and dinner -- on Thursday, March 17.
DESSERT TIME: When March 17 arrives, corned beef and cabbage are the culinary stars. Forks down, napkins down, too; there isn't another dish that gets the headlines of the day. And yet we'd like to offer up, as a close second, the Sticky Toffee Pudding on the Peninsula Hotel's special St. Patrick's Day menu. Why? It's topped with two most intriguing goodies -- malt ice cream and Irish Whiskey Jelly. Did you just say those last three words aloud, or at least read them again? Yes. They have that sort of wow.
PRIX FIXE: The Beverly Hills hotel is offering both lunch and dinner options on the 17th; lunch is $35, the later meal $45. Eye the classic-filled menu (pdf) and decide where you'll dine; the Belvedere or one of the swankery's more casual spots like the Club Bar or Living Room. Of course, this is the Peninsula, so "casual" here still means dressy.