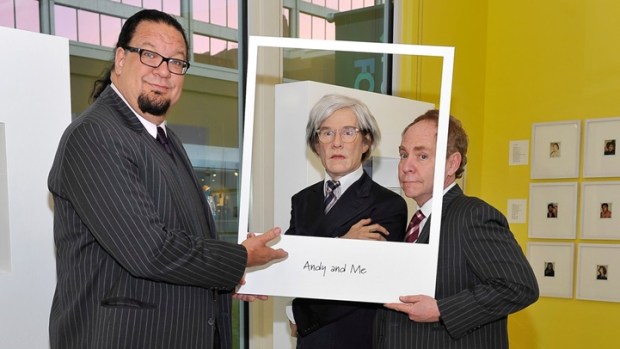 David Becker/Getty Images
Penn & Teller swing by the opening of the new Polaroid Fotobar & Museum. The pic-filled space debuted at The Linq in Las Vegas at the end of April.
SNAP, WAIT, PICTURE, HOORAY: There will be few products in the future that are simultaneously as hip and as old-school as a camera that makes an instant, hold-in-your-mitts photograph. We know, we know, your phone can do that right now, but we're talking Polaroid here. There's a reason that a bevy of filters for our smartphone pics take on a Polaroid sheen, and there's a reason that the photographic icon cameos in songs (hello, Outkast) and a whole mess of fashion shoots, trendy ads, and television shows. Want to show the '70s? Stick a Polaroid camera in someone's hands. Want to show a hipster young person nowadays? Do the same. But regardless of how we perceive their coolness factor nowadays, Polaroid snapshots are fun to look at and even funner to take, too. (We know, "funner" isn't a word but we're trying to be hipper here.) The Ling in Las Vegas thinks so, too, because a mondo instant-camera-loving museum just debuted at the hotel. The name? Polaroid Fotobar and Museum.
ALL THINGS POLAROID: The museum debuted at the end of April with some starry cameos -- Penn and Teller, we're looking at you -- and a quartet of exhibits from Lucas Michael, Maripol, Marc Serota, and Maurizio Galimberti. Celebrities will play a starring role in many of the photos -- think Jennifer Lawrence and Bryan Cranston in Lucas Michael's work -- but a wide array of imagery will be on display. That's the wonderful thing about instant, hold-in-your-hands photography, though, right? It became the first medium, long before our cameraphones, that invited us to think and snap quickly, and it's legacy is still thriving today. For more on the Polaroid Fotobar and Museum and visiting The Linq's newest addition, click click click.