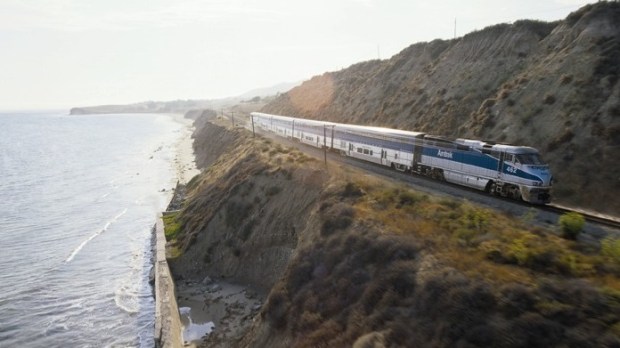 Amtrak
Ready to go Santa Barbara and take the train? There are savings ahead for 2014.
THAT SPECIAL TREAT: Whether we admit it to ourselves or not -- and we usually do -- there's something special we look forward to buying or eating or renting or doing during each vacation or day away we take. We may say "oh, nope, I just want to get out of town and clear my head" but you're probably also thinking of enjoying a hot toddy by the ski slope or a lobster roll on the beach or maybe picking up a local artwork from the artists who sell down by the harbor. That's okay, and nothing to stress about; supporting the economy of wherever you're going is just fine, and you get a souvenir or experience to remember to boot. This age-old desire, to pick up something to remember a trip by, becomes easier when the trip itself doesn't use up too much of our cash. If the getting there is the priciest bit, the being there gets a little leaner, quite often. But if you've had a Santa Barbara getaway in mind -- and we jumped straight to that, because most Californians are usually daydreaming of being on the Central Coast, science will one day discover -- and you've wanted to eat seafood at Stearns Wharf, here's a fine deal.
AND IT INVOLVES THE RAILS... which should stoke everyone's romantic definition of getting out of town. Register at Santa Barbara Car Free and nab 20% reservations on an Amtrak Pacific Surfliner ride into the American Riviera. Oh, not just the Surfliner, but the San Joaquin as well. There are a few asterisks, like making an advanced reservation, and, of course, you'll want to line up your bikes or public transpo once you reach Santa Barbara (or maybe you'll just stay on foot). Whatever the case, consider it a few extra dollars in your pocket, dollars that can go toward that lobster roll eaten by the beach. We do love when the getting to some place -- and the getting home -- boasts significant savings, and we love when it has an eco-nice theme to it, too. For more info, check out Santa Barbara Car Free.