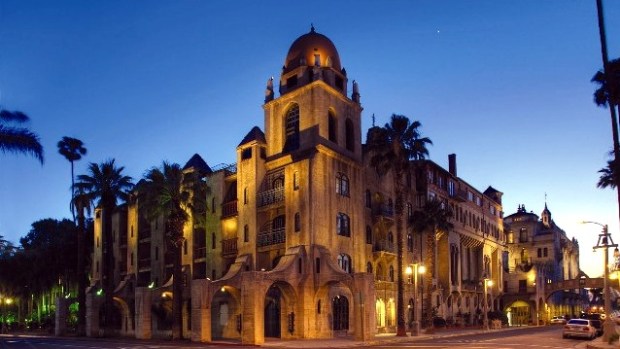 RCVB
Riverside is a storied city, and the Mission Inn is just one of its pretty, historic, and possibly spirited buildings. Want to know more? Join a ghost walk on the nights of Friday, Oct. 25 and Sunday, Oct. 26.
EERIE INLAND EMPIRE: Any phrase that goes "if you've seen one ____ you've seen 'em all" should be retired forever. Because that's not true, right? If you've seen one rose, you haven't seen them all. Same with a baseball game, a kitten, a mountain. Each is different and each brings its own individual thing to the vast table. Case in point: Riverside. It seems to have a patent on the concept of evening; evenings are just beautiful in the old city, especially when viewed through the towers of the Mission Inn, the town's known-everywhere landmark. Which means this: Any event held during an evening or night in Riverside has a lot of automatic texture to it. Oomph, even. And if that event is full of spooky tales of the storied place? And if several locations and storytellers are involved? Even better, if more chilling. The annual Ghost Walk Riverside Tours offer all of these autumn-sweet details in a variety of forms each year. And the fright-fun dates for this year? Friday, Oct. 25 and Saturday, Oct. 26.
FIVE DIFFERENT WALKS: But rather than stage a general walk that's okay for mostly all ages, the organizers have created a quintet of creepy outings: Spellbound Night, Skull Walk, Dark Dreams, Blood Springs Road, and Black Shadows. All tours are rated PG-13 except for Spellbound Night and Skull Walk, which are both rated G. You can learn where various tours will head -- yep, the Mission Inn rotunda is featured, as is Riverside Art Museum and the Riverside Courthouse -- and the intensity of the stories told. Cost for one tour is $13.67, with a small fee, bringing the price to fifteen bucks. Entertainment, a kid-focused carnival, and the Tombstone Trolley round out the Octobery nights. The best part about the whole affair, besides the fact that you get to enjoy a Riverside evening out-and-about? The California Riverside Ballet is behind the yearly high jinks, a fact that lends the Ghost Walks a rather elegant air.