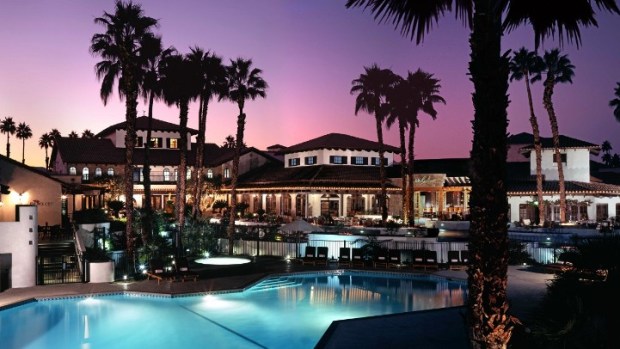 Rancho Las Palmas
Hello, nighttime pretty pool at Rancho Las Palmas in Rancho Mirage. Hello, nice deals, too.
HELLO, SUNTAN OIL: Usually when we see a photo of a pool, and we see it somewhere in the two weeks following New Year's, it appears to be a delectable treat that's just out of reach. We're working, it's winter, and all of that glimmery water signifies a sunshiny, summer sort of existence. Not this year, though, given the fact that January has donned its dressed-down weather and the warm rays keep shining on. If you're having pool-need at the moment, best jump on the Rancho Las Palmas Resort & Spa pre-season sale, which has a couple of days still to go (you have through Jan. 15 to make the booking). And that deal? "(S)ave 20% on all new packages now available at the resort with rates starting at $249."
RANCHO MIRAGE NIGHTS: The resort drops a reminder that all of those mondo music springtime festivals are just ahead. But we like a desert night on a normal Wednesday that's hubbub-free. But however you take your getaway, get on this one. Or "ones," we should say. There are a bevy of deals to choose from. Hellooo, Taste of Rancho. Do we spy a pair of wine glasses next to an outdoor fire pit? Sold.