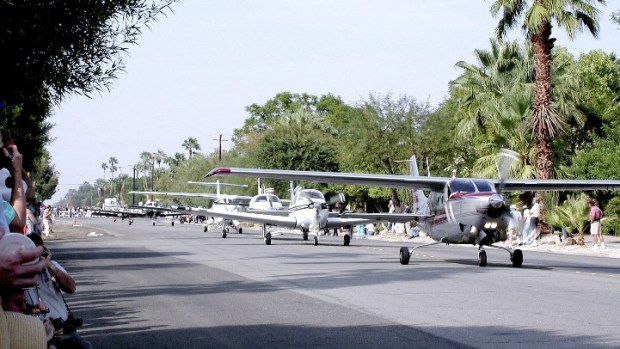 AOPA Aviation Summit
The Parade of Planes is set to roll through the city streets of Palm Springs on Wednesday, Oct. 10 at 10 a.m.
DESERT TRANSPORT: Unusual transportation in the desert? It's kind of a thing, right? Oh, we're not talking about the famous Palm Springs Tramway, although it certainly is one of the planet's most celebrated trams. We're talking about events like the Palm Desert Golf Cart Parade, which is set to roll at the end of October and is indeed comprised of gussied-up carts o' golf. And we're talking about the Parade of Planes, which rolls ahead of the Golf Cart Parade by a few weeks, and in nearby Palm Springs. Yep, we said "rolls" there; when one sees the words "parade" and "planes," one might assume that there's an aerial show afoot. Or perhaps asky, rather. Nope; over 70 private planes will actually be rolling, on asphalt, for one mile, through the streets of Palm Springs, much like they do on a runway (although much slower and without lift-off). It's a rather remarkable sight, especially for aviation aficionados, many of whom will be in town to celebrate the Aircraft Owners and Pilots Association Aviation Summit Conference from Oct. 11 through 13.
PARADE OF PLANES: The in-city, on-the-ground plane parade actually happens just in advance of the summit, on Wednesday, Oct. 10, so be sure to be in town that day if you want to snap pictures. The aircrafts'll wend from the Palm Springs Airport to the convention center on the 10th, and then back again on Oct. 13. For five reasons on why to catch the parade, check out the AOPA site for plane details and such.