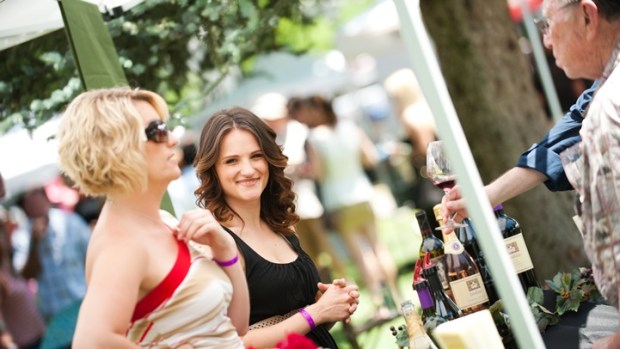 Paso Wine Festival
Paso Robles? Yes. A wine festival? For sure. The very middle of May? Gorgeous times. Four days? You betcha. Good stuff? Completely.
THAT OTHER AUTUMN: It's hard to compete with fall's utter fall-o-sity when it comes to changes in a vineyard. Leaves are going golden, or maroon, or buttery, and the breeze arrives with a hint of briskness, and everything around a winery is bustle and go. But autumn only lasts so long -- we hope we're not shocking you with that assessment -- and the person who loves some nature-lovely changes to accompany their wine sipping must look elsewhere for the small thrills that fall brings. May we suggest May? True, the heart of spring isn't known for chilly breezes nor red leaves, but it is a season of flowering, of bud-poppery, of fast becoming, which makes a fine pairing to fall's fast unbecoming. That there's a major wine festival plunk in the middle of the month only further stokes the desire to winery-it-up around that time, and that the festival happens in Paso Robles makes it a done deal. The Paso Robles Wine Country 32nd Annual Wine Festival is going to uncork a lot of bottles -- we mean a lot a lot -- over its four-day soiree, which indeed calls dibs on the middle of May.
THAT'S... May 15 through 18, yep yep, meaning the fest gets going with a series of winemaker dinners on Thursday night. A reserve event takes over Friday, and other tasty to-dos, and a Grand Tasting on Saturday (the wineries are grouped by region, in case you've been wanting to bone up on a particular area). There are also gobs and gobs of winery events -- some 130 in all -- so the challenge of the weekend is choosing what to do when. Oh, alongside the other challenge, of course: Soaking in all of the changes of the other autumn, the middle of May. Dear buds and blooms of Paso Robles: We're counting on you to be extra-spectacular while we sip our chard and nature-commune.