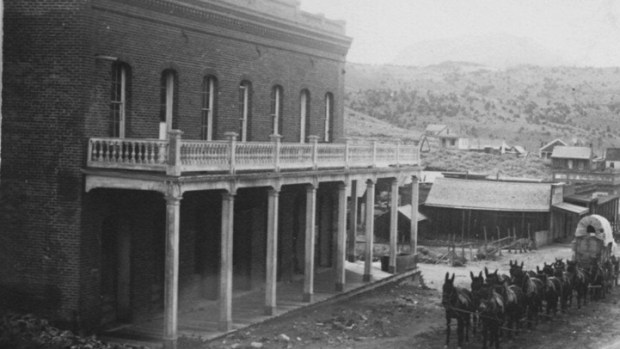 Bodie Foundation
Hop in your wagon -- or automobile, rather -- and join a group road trip to Bodie and Aurora.
ROAD TRIPS... may have not been invented for ghost town-type excursions, but the visiting of historic cities that are no longer occupied, at least by human beings, is very much a road trip staple. One may drive between San Francisco and Chicago, or Los Angeles and Albuquerque, but one may not pass up a sign that indicates there is a ghost town five miles off the main highway. But what of the road trip that hops from ghost town to ghost town? That's a rarer occurrence, except among serious ghost town aficionados (who are pretty legion). There are a few organized tours, too, with one of the biggies falling just ahead of fall. It's the Heritage Tour, a two-day ramble through two fascinating, ye-olde-wayback burgs and surrounding sites. Yep, you drive -- you can bring your oldster wheels if you like, that Model T, but note that "a higher clearance car is recommended" -- and, yep, Bodie, that most famous and perfectly preserved of ghost towns, is on the roster. And, yep, it is two days, so you'll need to book a place to spend the night somewhere nearby in Mono County. Terri Geissinger of the Bodie Foundation says "we recommend folks to stay at Virginia Creek Settlement or anywhere in Bridgeport." Easy? Peasy? Good.
DATES AND DETAILS: The touring kicks off on Saturday, Sept. 13 in Bodie, where "you'll receive an in-depth tour of the town, stamp mill, and cemetery." You'll then head over Geiger Grade to the Masonic and Chemung Mill. Day two, which is Sunday, Sept. 14? It's all about "traveling the historic stage route between Bodie and Aurora." Samuel Clemens once called the town home, and there are brick foundations and a cemetery to see. The tour is a popular one, says the Bodie Foundation, which any ghostie -- a buff of ghost towns -- can imagine. For it's one thing to swing by a yesteryear location for an hour, but quite another to build a weekend, with car-touring, around a few history-rich spots. Been to Bodie but want to go deeper? The Heritage Tour may be just your sepia-toned ticket.