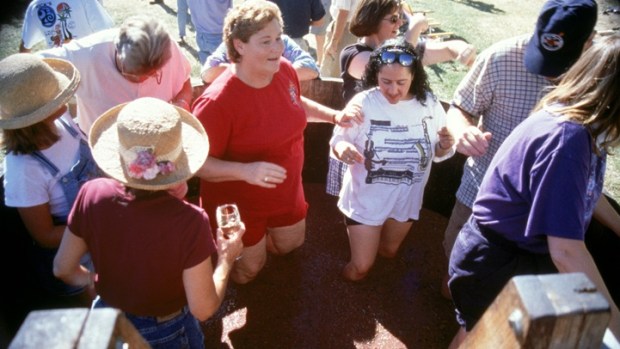 Julian Grape Stomp
Things'll get mighty juicy come Saturday, Sept. 6 up at Menghini Winery. Why? It's the Julian Grape Stomp.
WINE'S WACKIER SIDE: Commercials and advertisements and some tonier films would have us believe that the art of wine enjoyment is about inhaling bouquets and swishing deeply and speaking solemnly to depth, tone, clarity, and character. But wine enjoyers -- so, anyone who drinks vino outside of an ad, basically -- know there are many laughs to be had over a stemmed glass full of sparkly liquid. Literally: It's very often near the end of dinner with friends when the giggles get a little louder and the toasts multiply and the smelling of corks, for comical effect, ensues. Grape stomping can fold into this sweet-soul'd category, though its roots are certainly very much about the making of wine (and grapes are stomped the world over). Still, put any two friends or newcomers to the art -- and it is an art -- inside an old-school barrel loaded with juicy orbs, and have them start to do the skirt-lifted, pants-rolled-up squishy dance, and the laughs are summoned. And the sweat, too: It is not easy work, grape stomping, even if the grapes popping under your heel is a little humorous.
NEVER TRIED IT? Here's your chance: The Julian Grape Stomp Festa'll invite visitors to remove their shoes and dig into the fruit, feet-wise, on Saturday, Sept. 6. Menghini Winery is the place, the fee is fifteen bucks for those over age 21 (and a little less for the little stompers), and there is a barrel for the grown-ups and one for the kids. Bocce ball, bites in the theme of the day, and crafts for sale round out the autumnal affair. The fundraiser for the Julian Chamber of Commerce is a biggie, with lots of attendees, meaning that you and your pals may draw a crowd with your simultaneous squishing and laughing. But isn't wine, above all, supposed to be fun? Or at least invoke real merriment and community? Done and done.