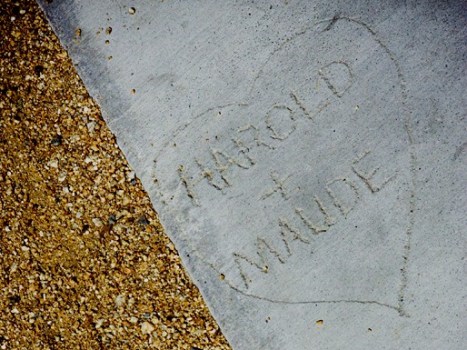 Ace Palm Springs
The Harold + Maude heart on the Ace Palm Springs walkway.
SIDEWALK SWEETNESS: Most hotels, we'll wager, don't take kindly to messages written in wet cement on or near the property. But the Ace Palm Springs not only likes its large "Harold + Maude" heart in its walkway, it takes a February weekend to celebrate the film the heart celebrates. That 2011 weekend will be the one just ahead of Valentine's Day -- no surprise, given that the 1971 classic is one of the greatest love stories in all of filmdom -- and there are a pair of perfectly named packages to consider.
"HAROLD" AND "MAUDE": The Harold package and the Maude package have a lot of crossover -- as the two characters do in the film -- but Harold has its own touches, like a picnic, and Maude comes with a massage dealie. There's a lot in both, so look 'em over, closely. Also, the Ace will screen the movie on Friday, Feb. 11. There's also a "retro dance party" in the works for the weekend. We know a certain soundtrack that might get played, or should, anyway. "I Think I See the Light," indeed.