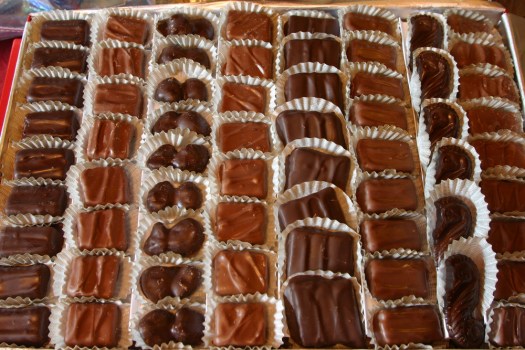 Chocolate
Yeah, we could work with this. Escondido puts out the velvety chocolate snackage, and some wine to sip it by, on Saturday, Feb. 8.
HERE'S THE TOOTHY TRUTH... about chocolate. We want to eat it with someone. Yes, we know, we hear you, vintage films show a lady lounging on a divan in her finest robe, picking at a box of chocolates as a small poodle naps at her feather-slippered feet, and modern films, too, portray chocolate as the go-to grub when a date goes south. Eating chocolate by your own's self does indeed have its perks, but if you have a special someone -- and, heck, that could be your chocolate-obsessed brother or your cocoa-loving best pal or a sweetheart who's sweet on sweets -- then best stow the eat-alone box and make for a chocolate-themed to-do. Salons of the sugariest sort have been popping up in recent years, proffering salt-covered nougats and caramels filled with herbs, but there's a way to get those swanky tastes and not be confined to a single restaurant or banquet hall. Oh, and to swirl in some adult sips, too: It's Escondido's For the Love of Chocolate and SweetArt Fest, and it lands on the Saturday before Valentine's Day.
SO... that's Feb. 8. We like the Saturday before Valentine's Day for several reasons, because when the Day o' Hearts falls on a weeknight -- and that includes you, dear Friday -- stuff is a bit rushed-rushed. Oh, yeah, you're going to go out to dinner, for sure, but consider a lazy-toodle of an afternoon, strolling through Escondido, trying local beers and wines and fancy-pants chocolates (and straight-forward chocolates) made by a bevy of San Diego sweet artists. Music and carriage rides are also afoot. But of course, right? It's practically law on the Saturday before Valentine's. A ticket is $35 per person, and consider this: If you jump on that now, there's no Valentine's week fretting over getting into that booked-up cafe. You moved on the holiday early and wisely. If only everybody out there could be as forward-thinking and, yes, dang thoughtful.