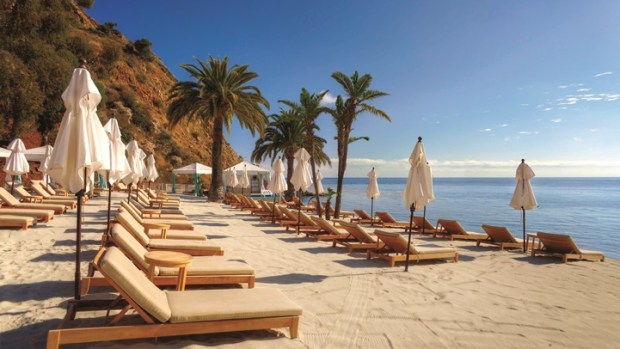 Visit Catalina Island
California has some gorgeous beaches, but only a few island beaches among them. One stunner? Descanso Beach Club on Santa Catalina Island. It's hosting weekend afternoon parties throughout the summer of 2014.
CATALINA FAVORITES: What do people do when they head some 26 miles out to see, from Southern California, for a day spent on Catalina Island? There are a few iconic musts, from admiring the non-native buffalo to the nighttime-loving flying fish to the off-shore kelp forests (seen through a glass-bottomed boat, of course) to driving a golf cart to partying like a pirate at Two Harbors to dressing up in vintage wear and dancing until the wee smalls inside the iconic Casino Building. Catalina isn't all that big, as you might know, so that it has several famous touchstones and have-to-sees speaks to its rather sparkly and mysterious character. But here's something of a spoiler alert and a good reminder for those who stick to their tried-and-true gotta-dos on the water-surrounded hunk o' land, again and again: Catalina is an island. It is, in fact, in its very name, which means it boasts some great waterfront and beachy play places, spots where people gather to sun and play bingo and watch the occasional outdoor movie. And, yes, sometimes there's a beach party, too, complete with DJs and cocktails and the perfect stretch of sand. That's going down at the Descanso Beach Club over the summer of 2014, and there's a way to get in on it.
HOW? Pay a two-dollar beach access fee, then settle in for the afternoon and take in the tunes and scene. That's it. Well, you'll want to stash some cash in your swim trunks for drinks and bites, for sure. The Descanso parties are on every Saturday and Sunday afternoon, from 2 to 5 p.m., through the final Saturday in September (note that they move to just Saturdays in September). We would dare tell you not to go find a buffalo or drive a golf cart, but, really: If you're on an island, don't you kind of want a bit of a beach bash, complete with cocktails and happy hour specials and DJs doing the spinning thing? California has many great beaches, but very few island beaches. This is one to enjoy.