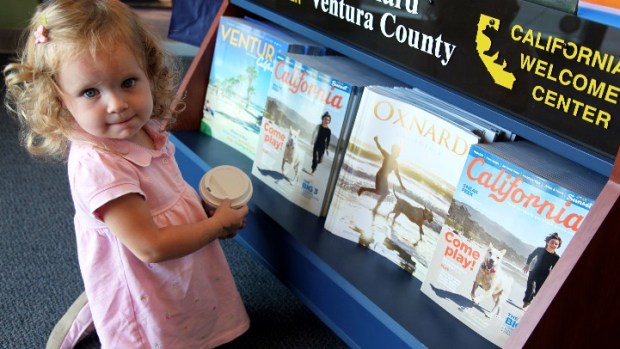 CWC
A new California Welcome Center debuted in Buena Park on Thursday, July 21.
SWEET RESPITE: California has traveler-oriented treasures aplenty, but one of our favorites has to be the Welcome Center. You know what we're talking about; you've seen the blue-and-yellow sign, the one with the bear, promising the weary driver that there'll be a center just an exit or two up the road. And what's to be found at that center? A chatty volunteer. A vending machine or two (we always need snacky treats on the road). A great bathroom. And shelf after shelf of California and regional travel pamphlets and brochures, all for free. A California Welcome Center -- call it CWC, if you want to be inside -- is seriously a very helpful service. Thank you, California Tourism.
AND THANK YOU AGAIN: A new CWC opened on Thursday, July 21. It's in Buena Park. Hmm. Wonder if a lot of visitors head for Buena Park. Thinking, thinking. Oh, we tease. "Buena Park, making other attraction-y towns attempt to bring it for the last half century." That's the new motto we're going to pitch to the city; too long?
CWC MAP: It's true that the average Welcome Center gets a lot of out-of-state traffic, but we say that every Californian should be using their services as well. It's full of good stuff, and free stuff, and friendly stuff, in an age where those three things can be in short supply. (If they're ever in large supply; but we stay hopeful on that front.) Is there a CWC near you, or where you're headed next? No joke, we've memorized the exits for our three favorites. (Yeah, we're bragging, but wouldn't you brag about it, too? You so would.)