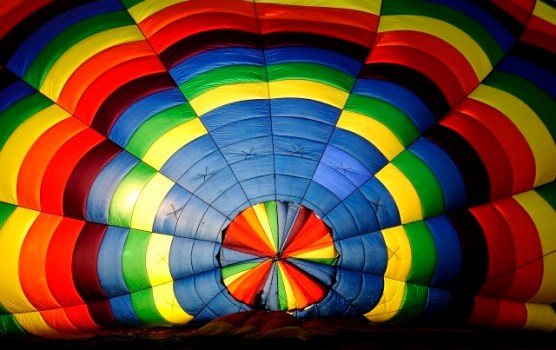 Getty Images
Hot air balloons + an epic Western river make for a pretty autumn sight. Make for Yuma over the weekend before Thanksgiving for the Colorado River Balloon Crossing.
SKIES, SONORAN DESERT, STUNNING SIGHTS: We'd never be one to pit pretty place against pretty place, as every location has a little something going for it. But what is staged at those pretty places, and what happens there, can sway our opinion a bit. Yours, too, probably; you probably find it more fun to eat an ice cream cone on a pier rather than, say, in your cubicle at work. And while there are many fine and photogenic destinations in which to fly a hot air balloon -- wine country is lovely, as is anywhere with a mountain backdrop -- there's something about the starkness of the desert that lends the airy proceedings some extra uplift and oodles of oomph. Some photo professors might say it has to do with the spare lines of the land, the clear horizon and the whiteness or beigeness of the sand and the blueness of the sky. Some would say that a chilly autumn morning in the desert makes for perfect flying weather. And some of those sayers will likely gather in Yuma over the weekend before Thanksgiving. Why? That's the annual Colorado River Crossing Hot Air Balloon Festival, one of the largest up-in-the-air parties in all of the Southwest.
THREE DAYS, MANY BALLOONS: The balloon bash will gain height from Friday, Nov. 22 through Sunday, Nov. 24. There shall be mass ascensions each morning, which is nice -- you can visit for one day and still experience a balloon fest's centerpiece event, the mass as. And, yep, now envelope-encompassing to-do is complete without a balloon glow, and there shall be one on Saturday night. Both the morning and night events compete for prettiness-of-picture-taking, but we'll let you be the judge on that. Just as we all must decide the nicest place to watch, or fly in, a hot air balloon. Wine country, mountains, or desert? Yep, it can be hard to choose, but there's something about a multi-colored, basket-holding wonder drifting high above stark sand and river that makes the heart pit-pat.