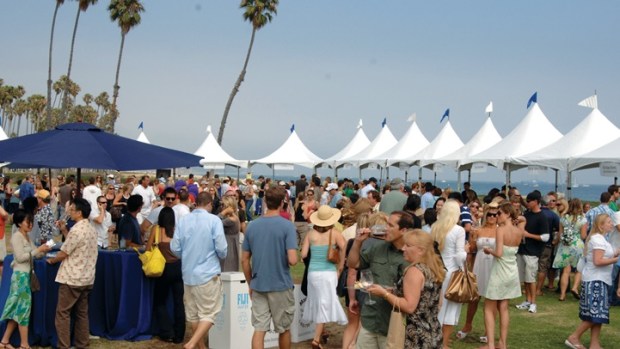 California Wine Festival
The California Wine Festival rolls into Orange County in the spring and Santa Barbara in the summer. Both stops include beach-close wine sipping.
SAND AND SHIRAZ: Think back to the '70s. If you weren't there, think back to items from the '70s you've seen in vintage stores and garage sales. What were some popular motifs? "Star Wars" and anything space-y was big; burnt sienna and avocado green were major colors, too. And California-type couples, big smiles, tiny bathing suits, sipping cold glasses of Chablis on a beach, were all the rage in advertising. You know these ads: Lovers laughing, a sunset, a frosty bottle of wine prominently displayed. This iconic image has worked its way into many a brain, but it is a bit disappointing that it crops up now less than it used to. After all, many Californians still believe in the power of a beach, a bottle of local wine, a halter dress, feathered hair, and laughter, right? We certainly do, which is why we're always happy to see the California Wine Festival come back around. It's a traveling party that knows location, location, location means a lot, if not everything. And the two locations it has chosen for its 2013 stops? Doheny State Beach in Orange County and Chase Palm Park Oceanside, a pair of ocean-close spots. Nicely done, California Wine Festival.
MORE DETAILS: The Orange County party rolls on Saturday, April 20 and Santa Barbara happens on Saturday, July 20. There are Friday events paired with both events, but the Saturday soiree is the one you'll want to sundress-up for and apply the coconut lotion. It's major -- the name should convey that -- and dozens of wineries show up to grab some table space. On the OC roster? Huge Bear Wines, Nottingham Cellars, Lorimar Winery, and Vena Vineyards. A ticket to the Doheny State Beach festival is eighty bucks. Go with a wine-loving friend, enjoy the ocean breezes, sip your chardonnay, and discuss whether that California-couple-on-the-beach motif will ever make a pop culture comeback. We think the time is due.