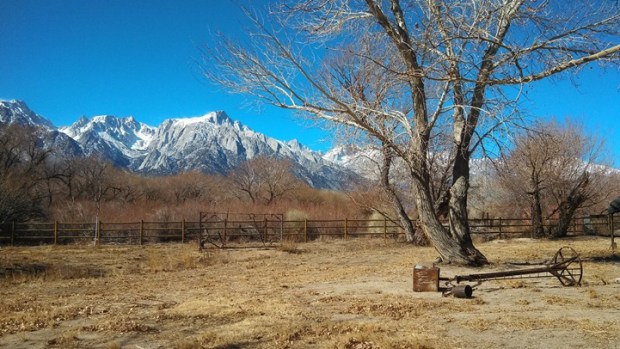 Lone Pine Film History Museum
Seen this scene, or shots just like this, in dozens of films? You have. It's Lone Pine, a town that celebrates its Western film heritage each year with an October festival. Giddy up!
ICONIC LANDSCAPE: It's true that John Ford and other filmmakers of an earlier era returned, time and again, to places like the Grand Canyon and Monument Valley and various arches around Utah and Arizona to convey The West, capital T and capital W. But California has its own Western-flavored cinematic filming grounds. Simi Valley and the Vazquez Rocks near Santa Clarita are two longtime cowboy movie locations, yes, but one you're apt to see time and again in Westerns is Lone Pine. Make that Lone Pine, the nearby Alabama Hills, and the Sierra Nevada, too, plus not-so-far-off Death Valley. "Gunga Din" from 1939 used the area, as did 2012's "Django Unchained." Plus hundreds of other films stretching back to the very start of filmdom itself. So rife is the region with Western film history that there's an institution devoted to it right there: The Lone Pine Film History Museum. And, each and every year, for nearly a quarter century, the museum and Western cinephiles gather in the town, a burg located snug up against pretty Highway 395, to celebrate the on-screen Western.
DATES AND DETAILS: The 2013 Lone Pine Film Festival is ready to ride from Friday, Oct. 11 through Sunday, Oct. 13. "Lone Pine, Where the Real West Becomes the Reel West" is the theme, and a number of stars are set to show. (Hello, Mariette Hartley and Andrew Prine.) A concert and screenings are in the works, as well as a tour of 15 area locations including the Arches of the Alabama Hills (what film(s) the location appeared in will of course be detailed along the way). Call it a feast for fans of true-blue Westerns and Western yippee-ki-yay spunk. And call it a grand way to spotlight one of California's most beautiful natural backlots. It's country you've seen so often it'll likely feel like you're driving into the middle of a ranch romance made back in 1947.