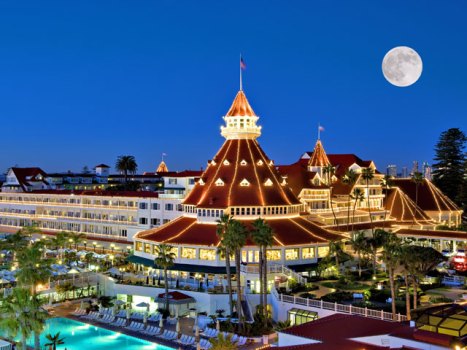 The Hotel del Coronado in all its holiday glory.
"Del" of a Deal: At first thought, it wouldn't be silly to assume rates for the holidays would skyrocket, especially at the refined 120 year-old Hotel del Coronado—or, "The Del" for short. However, to much surprise and gratitude, the infamous red-shingled roofed luxury resort is offering some sweet holiday discounts instead. Take a vacation across the bridge for room rates beginning at $215 a night, skating by the sea included. And not just one ice skating adventure, four of them—rentals included.
More, More, More: For slightly extra per night at $299, the "Holiday Escape" package includes a daily breakfast buffet for two, half off self-parking, and a commemorative 2010 Hotel Del holiday ornament. If you're into that--not leaving empty-handed--, the "Holiday Stocking Stuffer" package subs the buffet for $75 in retail credit. Plus, the "Del" will be decked from head to toe in holiday décor and thousands of glittering lights--as if it's natural beauty wasn't enough. All deals are valid until January 1st of the New Year.