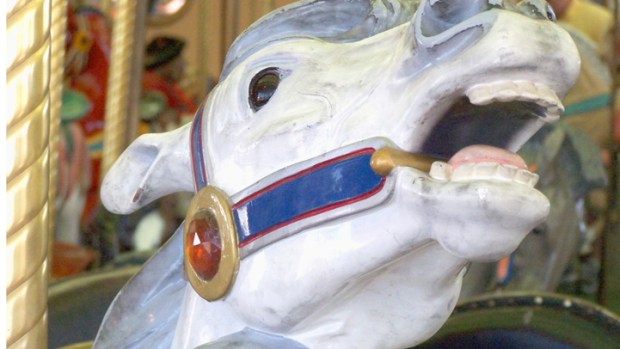 flickr.com/tspauld
The Looff Carousel at the Santa Cruz Beach Boardwalk turns 100 in 2011.
BY A NAME: Do you call the carousel at the Santa Cruz Beach Boardwalk "the carousel at the Santa Cruz Beach Boardwalk" or do you call it "the Looff," like you're all in the know and you and the Looff go way back? Uh-huh. We thought it might be the latter. And that's cool; anyone who tries to get in with a merry-go-round is on page one of our personal a-ok book (and we know, there are finer points between merry-go-rounds and carousels, but we're sometimes like to interchange the terms, just to keep things fresh). If you are indeed on a first-name basis with the Looff, we're betting you know that August 2011 marks its centennial, and the Santa Cruz Beach Boardwalk is celebrating with a brassy bash.
AUG. 1 THROUGH 7: Real brass-plated rings -- like the old-school shiny circles youngsters in boaters would grab at decades back -- will be mixed in with the other grabbable rings at the Looff from Monday, Aug. 1 through Sunday, Aug. 7. If you do indeed nab yourself a real brasser, you get to keep it -- unusual souvenir, hooray! -- or you get to turn it in for a prize (if you're thinking a commemorative poster, you're on the right track). The other rings, the rings that are always on the grab at the carousel, are steel, but we're sure you know that. If you'd like to know more about one of the jewels of the boardwalk, and indeed the Californian shore, read on Looffians. Read on.