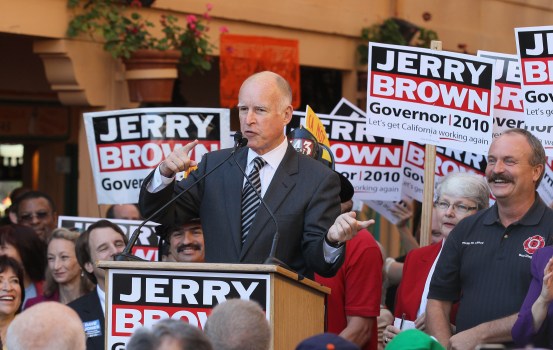 Getty Images
California Attorney General and democratic gubernatorial candidate Jerry Brown speaks during a campaign rally at Cafe Coyote on November 1, 2010 in San Diego, California. With one day to go until election day, Jerry Brown is wrapping up his three day campaign trip throughout California in hopes of defeating his republican challenger and former eBay CEO Meg Whitman.
It's his sister, former state treasurer (and 1994 Democratic gubernatorial nominee) Kathleen Brown. She's moving to Chicago, according to the Sacramento Bee, for a new position within Goldman Sachs.
Brown is highly respected, both for her public service and her work at Goldman. She headed up Goldman's working on public sector and infrastructure banking in the West, which may have been a contributing factor in this move, since there was potential for conflict of interest with her brother taking office.