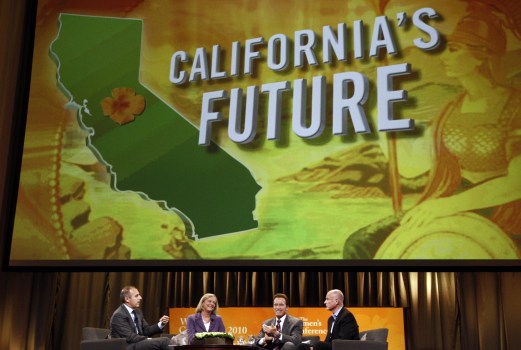 AP
In this file photo taken Oct. 26, 2010, from left, Matt Lauer, California gubernatorial candidate Republican Meg Whitman, Calif. Gov. Arnold Schwarzenegger, and California gubernatorial candidate Democrat Jerry Brown are seen on stage at the annual Women's Conference in Long Beach, Calif. California's gubernatorial candidates, who will face a $12 billion budget deficit when they take office, and candidates in other states faced with enormous deficits are playing tricky political games. They promise to erase the paralyzing deficits but generally avoid the painful details of what it will take to accomplish that.
The non-partisan Legislative Analyst's Office is out with its projections on California's budget and the news is grim. The budget for the current year (passed only a month ago) is likely to be $6 billion in deficit by the end of the budget year on June 30. And the projected deficit for the following budget year is $19 billion.
So you'll be hearing a lot about a $25 billion hole in the state's finances.
And that's not really the bad news. The bad news is the report's conclusion that for at least the next five years, the state will face annual deficits of $20 billion.
That's a sign of a budget process that doesn't work. And it's one more reason why it's no longer enough to muddle through with more cuts, some revenue increases and lots of accounting fictions. The state needs top-to-bottom fiscal reform.
What's maddening is that the new governor and legislative leaders don't seem to be pursuing such reform. In fact, Gov.-elect Jerry Brown seemed to rule out systemic reform in his campaign. The LAO report is more evidence that things are going to get much worse before they ever get better.